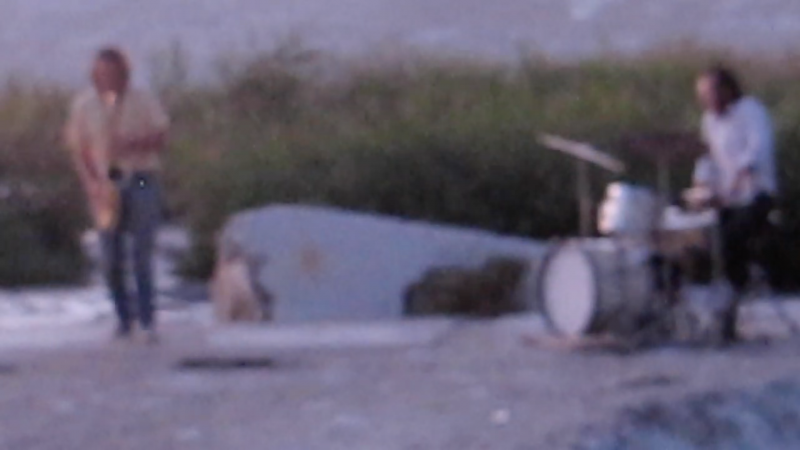 The following is a reflection on the process behind Sax Beat, a new album of improvised sax/drum duos by Ross Chait, Nick Flessa, Kern Haug, and Josh Sushman out now on Symbol Group Records. This reflection is written by Nick Flessa.
Create a set of parameters and let something happen. This was a central takeaway from my time working with artist and filmmaker Lee Anne Schmitt at CalArts. We looked at how artists, ranging from the Fluxus Group to filmmaker Ben Russell, have used a set of formally consistent limitations within which they allowed whatever happened to happen. Sometimes the result is boring, banal, and slow. Other times it is transcendent, original and completely unexpected. Usually it is a frustrating and curious combination of both. Formalist filmmakers use framing, duration (sometimes tied to the length of a reel of film), and camera movement (or lack thereof) to create a unified structure around generally improvisatory content, whether it's improvised deliberately by performers or by the window of the world the camera documents at that moment.
These ideas remained compelling to me when I began curating and programming at Los Angeles Contemporary Archive in 2016. I found that by creating an arbitrary framework, I could invite disparate types of artist and performers to contribute to an event in a way that both put their work in conversation and allowed for a degree of improvisation that would be worthwhile to document for posterity (all of these events were either filmed or recorded and became part of LACA's collection).
Hailey Loman and I developed several events and series using numbers as their structuring principle. The first was a reading series, Five Texts Regarding Pain, which created a very general framework and placed five different readers in contrast with one another in ways that turned out to be illuminating. After the success of this event we developed a music series called 333, in conjunction with LACA's move to a new space in Chinatown. It consisted of 3 shows total, with 3 performers each, on the 3rd day of the first 3 months of 2017. We even went so far as to charge 3 dollars for admission. The result was similar—an eclectic and interesting dialectic of different musical approaches placed into proximity by the occasion of the series, which was then added to the archive. 
Sax Beat drummer Kern Haug performed a set with Pauline Lay in 333 and drummer Ross Chait played a solo set later in the series. During this time Kern and I started talking more. We then collaborated on several projects in the time following and spoke extensively about numbers, specifically vis a vis musical ensembles, on his KChung show Parrhesia Hour. We talked about our love of Sax/Drum duos, especially Duo Exchange by Frank Lowe and Rashied Ali. This became the model for Sax Beat.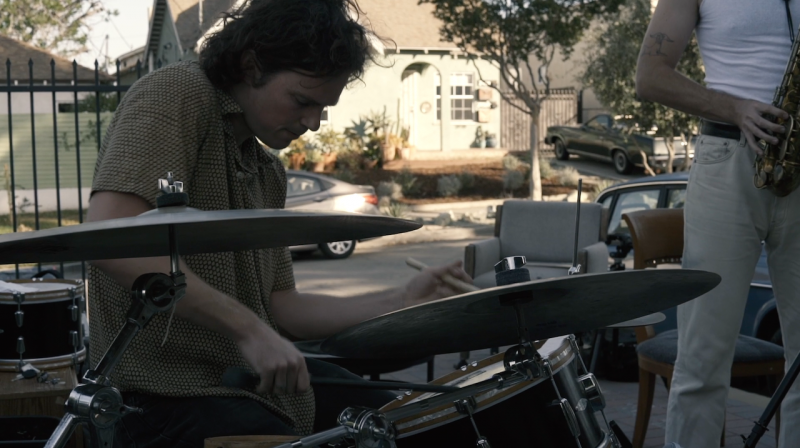 We put one mic on my sax and one mic on Kern's drums in my garage in Frogtown, Los Angeles, on April 6, 2018. As Kern describes it: "I remember thinking of our dynamic as "modular" even though I wasn't sure if that was the appropriate word. Like we were engaging in a series of relatively discrete musical vignettes. No pressure for any idea to continue. I thought it was relaxing, and I think relaxing is generative. I felt motivated to go for any idea. The piece was going to develop regardless if the idea did. It started with us trusting each other to keep coming up with new ideas. But I guess also to acknowledge when we're both done."
We spent some time mixing and pondered what to do with our recording as we worked on our projects outside of the duo. No definite plans were made. I put out a record and toured Germany and the West Coast after my own release show at the Bootleg. In December 2018 Ross came onboard to play bass in my band during a tour. I told him about the recording Kern and I had made and he half-jokingly suggested he and Josh Sushman try to do the same, and that we pursue releasing the two recordings as a split. This haphazard suggestion proved to be the missing link in the Sax Beat project. Similar to the earlier programs at LACA and the approach used by formalist filmmakers, applying the parameters and limitations that Kern and I used to another duo's recording would give us a new variable and place two different uses of those parameters into conversation; in a formal sense this would balance things out, and truly make the project a duo exchange.
By February 2019 we got it together and recorded Ross and Josh in the same room at the same time of day for roughly the same duration. The approaches and musical personalities were different but we used the same setup and parameters to document them as we did almost a year prior. The two combined perspectives of the duos seemed to balance one another out, forming a full-fledged record with an A side and B side. Kern and I said something to each other, Josh and Ross said something to each other back. A conversation between two conversations.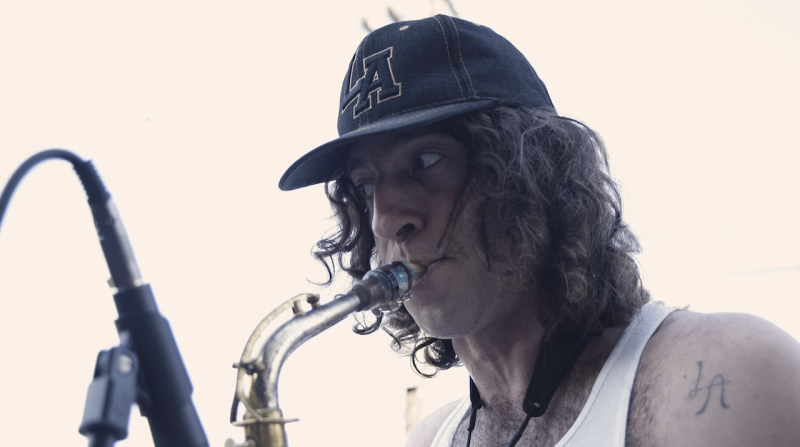 I started writing this text on April 6, 2021, 3 years to the date after Kern and I recorded our takes. I think the greatest imbalance in the project is the time it took to record and the time it took to ferment a final form and release, but maybe we can chalk that imbalance up to the indeterminacies of life, especially creative life. That being said, I think the fact that the project has been carried through speaks to the importance we place on balancing our more polished and presentation-based music endeavors with improvisation and process-based work that doesn't fit neatly into the capitalist mindset surrounding music. It's an open-ended, open form record that speaks to a different side of the performers' musical practices; a model for a non-commercial, non goal-oriented way of making a record, and the importance of making space for that. 
As Ross puts it: "Improvising, what an earful! So much history and cultures and communities built around the practice—it's impossible to reckon with it all at any moment in a recording or even a life's work. And I think that's where some of the chaos and token haphazardness of free improv sometimes come from. You listen to so much shit by so many artists of such insane musical prowess or none at all and think 'well what the hell am I supposed to do next.'   Sometimes you write songs, or symphonies, or build a ten foot modular synthesizer, and sometimes you just pull up in a garage and go nuts on the fly. There's a lot of value I believe in having recordings like this as snapshots of an artist's path. A unique humanness in hearing pure, albeit error-prone thoughts made in sound. There's a natural tendency, especially with everyone's life story being blasted out on the internet, to try to disguise the learning process and the perfecting of a craft and trick people into thinking, 'I did this precise thing followed by this precise thing' and I really think that's never how it works. I think there's beauty and a special kind of musician/listener relationship gained in presenting something uncomplicated and fleeting in process. Lastly, making crazy music is like therapy and hearing it can be too!"
The release has lined up in a serendipitous way with my recent work composing for activist and District 13 City Council Candidate Albert Corado, who is running against the incumbent Mitch O'Farrell (of recent Echo Park displacement infamy). We performed a livestream benefit for Albert on April 24th, and are hoping to find other opportunities to fundraise on his behalf. CD13 is a large and strangely shaped Los Angeles district that encompasses Frogtown, Atwater Village, East Hollywood, and much of Echo Park and Silver Lake. The district is a huge hub for art and music in Los Angeles. This record was created in CD13, and I think it's important to balance the ability to pursue projects like Sax Beat with a sense of civic duty towards the places that provide our frameworks as well as the chaotic happenings in between. 
For the occasion of the release we are performing a live, outdoor show by the L.A. River as part of Chloe Ginnegar's curatorial project Some Clouds. The setting of the river, which flows through a concrete wash and gives home to lots of erratic plant growth and wildlife in the middle of a built environment, feels like a perfect metaphor for the record.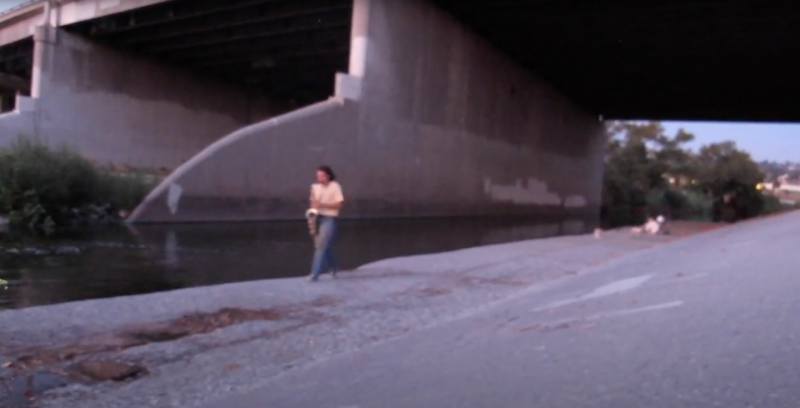 More from this issue