G showed up late to class with a large cup of Dunkin' Donuts coffee. He was slurring his words. "I made a fire song last night." Clearing his throat, he took a gulp of coffee weighted with five sugar packets. G seemed to survive like this, fueled by the competing forces of cheap coffee, Xanax, and more recently, Klonopin. Enrolled in a Los Angeles art school for six months, G had already decided that academic life wasn't for him. Instead he was going to rap. "Hello Kitty music," he told me, pulling on the collar of his GUESS crew-neck to reveal the smooth black outline of the cartoon inked on his chest. "I like the little kitty, I like looking at it, it makes me happy."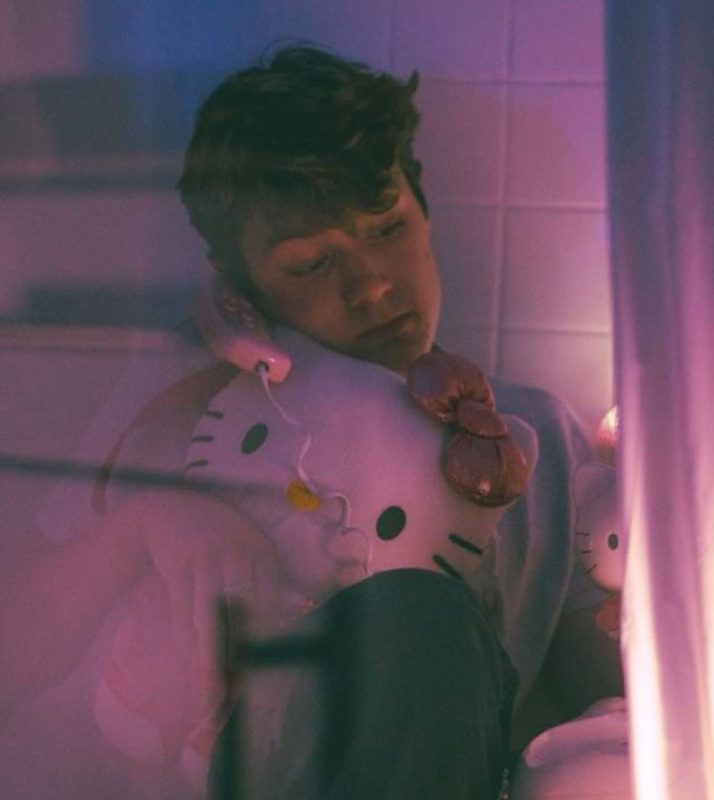 G views himself as an industry man. And by industry I mean the multi-billion dollar industry comprising youth culture: a mix of fashion, music, internet, and lifestyle consumerism. G is 19, a white boy with a grown-out dye job reminiscent of a late-90s boy band. He walks with his head down, white Apple earbuds looped round his neck, and he's always yapping into the mic. He wears slim baggy jeans with customized Nikes, a pink camo belt with chains looping the sides, and a fistful of goth-metal rings. Under the name Chef Courage of the "HelloKittyClique" (a project with peer rapper-producers BAMBI and Hella Sketchy), G spends hours in the school's basement studio recording tracks for SoundCloud.
My introduction to G and his scene was unexpected. I went by the studio to discuss an entrepreneurial project he hoped to launch using the school's resources. I found him rapping instead. He was wired from the night before, mumbling ad-lib over a prefabricated trap beat on Logic. "Kitty did it on his own…feel it creeping in my bones like some suicide; do or die; Kitty in his dreams getting crucified…" ("Kitty Jingle"). The room is small, poorly lit. He records a few takes and then plays the best cut back to me, helping himself to the coffee I'd brought. In the following 15 minutes, he finishes a song and tells me about groups of musicians from Boston to Houston: friends, collectives of friends, and enemies, alike. These artists are resoundingly young and resoundingly male, though racially diverse. They share an affection for prescription meds and most resoundingly, the lure of big money.
Born in 1998 in Boston, Mass., G moved around a lot. His parents separated when he was 10, and he shuffled between the two for a while. In high school, he became interested in art. "I would go off alone a lot. I had my friends but often I would wander into specific areas and take pictures or do graffiti or something. I was young, maybe 14, but trying to take good photos and make photo series. I enjoyed exploring other neighborhoods."
Around this time, he fell in with an older rap crowd. He started making their beats. "I used to record in the Wings Over restaurant bathroom because one of the rappers I used to hang with worked there. We would also go into parking garage structures and smoke and record because it would be too cold outside." As G honed his beats, he streamlined his hustle. "Making money has always been important to me," he said. "If I didn't sell drugs I probably wouldn't have been able to go to college. Most of my fashion portfolio was cut & sew clothing paid for with drug money." By the time G turned 17, most of his friends were living the same way. "They were getting in trouble for counterfeit schemes, stealing. One of my friends broke into a gas station when he was really high. Another was so high one time he broke into a CVS attempting to get into the pharmacy. Around this same time my dad went to jail because my mom and my stepdad had him put there. My mom had a restraining order against him, and supposedly my dad violated it, I don't know exactly what happened. Her arm got broke."
In 2015, G met BAMBI (formerly Yung Bambi), whose stage name is inspired by the Disney character of the eponymous animation. BAMBI (Siyanda Stilwell) lost his mother young. He was raised by foster parents in the U.K. before the family relocated to California, then Texas. At the center of up-and-coming Midnight Society, BAMBI is on the cusp of a breakthrough career moment, lining up opening slots for the likes of Xavier Wulf, Lil Peep, and Yung Gravy. BAMBI, a self-professed EDM head, was turned onto SoundCloud rap by G: "I put him onto Playboi Carti, UnoTheActivist, Thouxanbanfauni, and Lil Yacthy and whatnot," G says. "I was listening to Kami (Kamiyada, a key member of Midnight) for a while before I met Bambi, and I really enjoyed his music. I liked his flow, aggressive use of voice…" Friendships were formed and the group solidified ties around musical collaborations.
Today, Midnight consists of core members BAMBI; Kamiyada+ (Kami) and producer The Virus and Antidote; Kellbender; Fukkit; Rare Akuma; Original God; TrippyThaKid; Kay P, Johnny Gee; Cresylic; Sake, Dutchman; Yung Xela; Beex; Kell Killuminati; Braxton Knight; Skrilla; Drg/Reaper, as well as Los Angeles-based BLVC SVND, whose painted nails, hooped earrings, "and a wardrobe inspired in equal parts by Disney and death metal," coalesces into a powerful figure inspired by Metallica, Iron Maiden, Rage Against The Machine, and Jimi Hendrix and Waka Flocka Flame alike. Beyond the inner circle, about twenty members and affiliates from around the globe make up the ledger. The internet allows cliques to span vast distances, unlike zip code collectives of the past.
Whereas swathes of other underground SoundCloud rap collectives boom and bust in the high velocity marketplace of the web, Midnight have a clear sense of the path laid out before them and BAMBI, a smart, pragmatic individual, steers a tight ship. "We're like family," he said earnestly when I asked what sets them apart. One afternoon when scores of the group were in town for a Ham On Everything DIY warehouse show in DTLA, I went to the AirBnB house on the edge of Skid Row that the group had booked for their stay. Scores of teens and young twenty-somethings (mostly males) filled the living room, and more were gathered around two glass bongs on the patio. Tabs of acid and Adderall were traded casually but the vibe was mellow. BAMBI was in the makeshift recording studio with 20-year-old producer Kellbender, laying down tracks. Mirroring the demographic of its audience, the young men in the house had gathered from across the country and their style was varied and indefinable. Some looked decidedly grunge, others were emo inflected. A few wore chains, jewelry, statement pieces. There were dreadlocks, skinheads, afros. Austin–based rapper Trae Cane was preparing his merch for the show, a brand he launched called Broke Bois, whose unisex, emo-tinged streetwear bears three jagged broken hearts. He's spry, talkative, driven. His braided hair is purple today, but he likes to switch it up. He's known Bambi and Kellbender for years, and like them, his sonic influences span the gamut.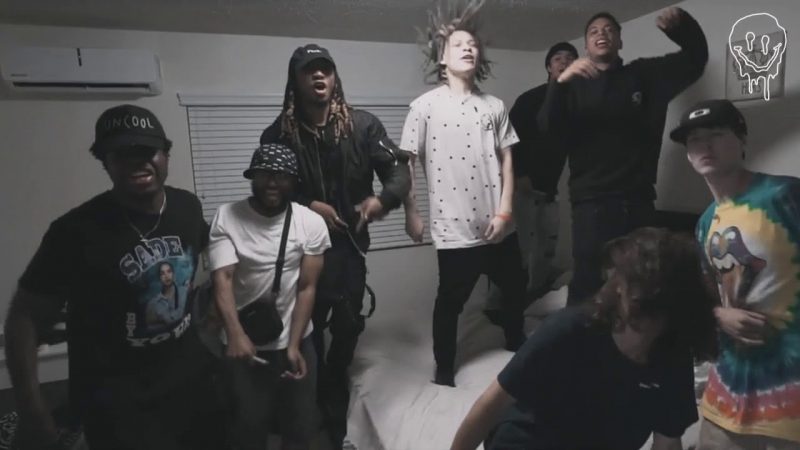 "The closest thing to rap I listened to growing up was Linkin Park," Kellbender laughs. "Before I made music, I was really into Green Day, and then it became heavy metal. I was into hardcore stuff. And then I met a group of friends, and went from listening to heavy metal to listening to Fredo Santana and Waka Flocka. I started making beats then, trap style beats. I knew what I liked from a sound perspective. I always wanted to play a guitar and whatnot, and my friend showed me I could do it on a computer, and we went from there." Kell tells me that he remembers a clear moment in the mid-2000s when indie, or "rock and roll," officially died. "Everyone was listening to hip-hop… Lupe Fiasco and Kid Cudi. Wiz Khalifa. It wasn't too hard on the ears. And then it was Rocky and Tyler the Creator. I thought that music was so weird at the time, but I was still into it. My mom actually showed me them." For Kell and his peers, Odd Future's homemade recording was the punk record they longed for. "It made it ok to record at home," he says, channeling the DIY-era of guitar-bands of the past. G also cites Odd Future as a pivotal influence in his development, telling me how he once painted his nails and was ridiculed by family and friends alike. "I was a weird kid in school. Tyler made it ok to be weird."
As a producer, Kell is in hot demand. "His mixing is really strange. He keeps this dynamic range and distorts sound. At the same time, it's full. These songs just banged so loud," BAMBI says of his friend's stylistic repertoire. Kellbender, who was previously part of XXXTentacion's Member's Only outfit before joining Midnight, has produced several of X's tracks as well as the likes of Hollywood-based Fifty Grand (Elliott Onofrio), a frequent collaborator of X's. "Last night Kell and I made the outro of our tape, it's five minutes long and might get longer. It's gorgeous, it's desperation, and hope," Fifty Grand tweeted this week. His music is sinister, a score for the horror movie of contemporary life. Until 2014, Fifty Grand, Elliot, was known to family and friends as Emily. "After years of sporadic depression and anger, I began to chip away at the artificial exterior society helped me build: a false appearance, a false gender identity, a false sense of self," he told The Fader. In his official video for "Reasons," released earlier this year, Onofrio is flanked by two nurses in gas masks as he writhes in torment, the skin on his face bulging and deformed.
As the evening drew to a close, more and more people filed into the room where I'd been interviewing Bambi and Kell. I was the only female present, and about a decade older. For a long time I listened. The conversation turned to intimacy, to romantic relationships, breakups and bust-ups with all the emotional intensity of youth. "Making money," someone says when I ask what's important to them. For this generation, Young Thug's "Stupid Rich" ideology is something to strive for. Coming of age at the height of neoliberal singularity, an era in which almost everything — every exchange, every experience — has been monetized, has apparently induced a hypercompetitive response in youth circles. And yet the spike in the usage of downers among this demographic, of melancholia as a stylistic objective, is telling. The grind of continual and extreme productivity, of selling oneself always, seems to be taking its toll. At a certain point, they're driven to zone out or black out before starting all over again the next day. At dusk it's time to leave. G's been scribbling in his notebook the whole time. "Getting my heart broken," he replies earnestly when I ask what he's most afraid of.
More from this issue