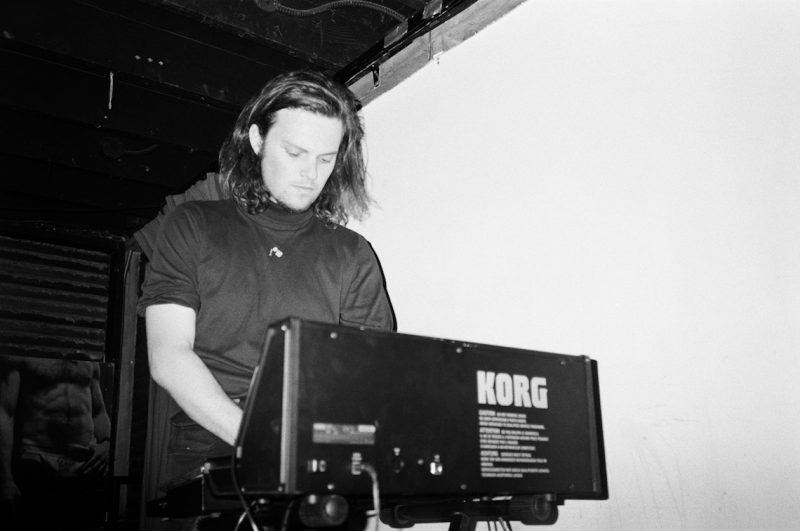 Total Heat is a new project from musician Ross Chait that brings a fresh approach to solo work. With this act, he will perform and record "with less electronic manipulation and more proper song playing and improvising with a full band (drums, vocals, tapes, harp and bass)." As Total Heat, Chait mixes his own material and plays alongside and outside it. In "Still Rot," he lets full songs come together –– only just­­ –– and then muffles and pits them against one another. One song in the mix is a previously unreleased track, "No Mistake," that he says is "about having a fight with a horse in a stable while there's a big storm outside and you're seeing lightning strike the floor of the place." In the production of the tape, the only samples used were Bart Simpson's voice and something else that remains a secret.
Before this release, under the artist name Ross Wallace Chait, he released three full albums, the latest of which is Rocking and Rolling off A Giant Fern Records. In Rocking and Rolling (2016), Chait turns bits of musical ideas into atmospheres; he salvages small pieces of life. The tunes beg listeners to sway as if they are in their morning commute through Los Angeles and the traffic is a joy. They vibrate with the pastoral pleasure of a gyrating dance floor.
Ross currently plays drums in Girlpool, and he drums and sings with Martin Isenberg in the band Double Kick. We are thrilled to release his latest work and excited to see where he takes this outfit.
In the spirit of our genesis, Soap Ear asked Ross to comment on the state of music in L.A. Here is his response:
The musical landscape in L.A. is a totally phenomenal, whacked out, inspiring-ass beast. I'm lucky to have been moving around the last few years between the experimental scene with my own music and the more strict rock and roll heads with the bands I've played drums in. It rules. People are so hardworking and for the most part open-minded and collaborative and extremely generous with their spaces and talents. Some people say (and I don't disagree) that the music scene here is unrefined, people can get up on a stage and do whatever they want, more than in a place like New York City or maybe other towns overseas. And sure that works for better and for worse. You see a lot of underwhelming acts, but that's part of the beauty of it. Seeing someone do something you think is garbage, but they're doing it honestly in a way that represents who they are and how they think creatively, that's beautiful I feel. That's inspiring, maybe even more so than seeing something you like!  L.A. isn't too highbrow a lot of the time, and I love that about it. Call me plebeian, call it whatever you please. But if you wanna move somewhere and start a band or spin cassettes or host a Little Orphan Annie sing-a-long party, move here! Do what you want, someone will like it.
More from this issue