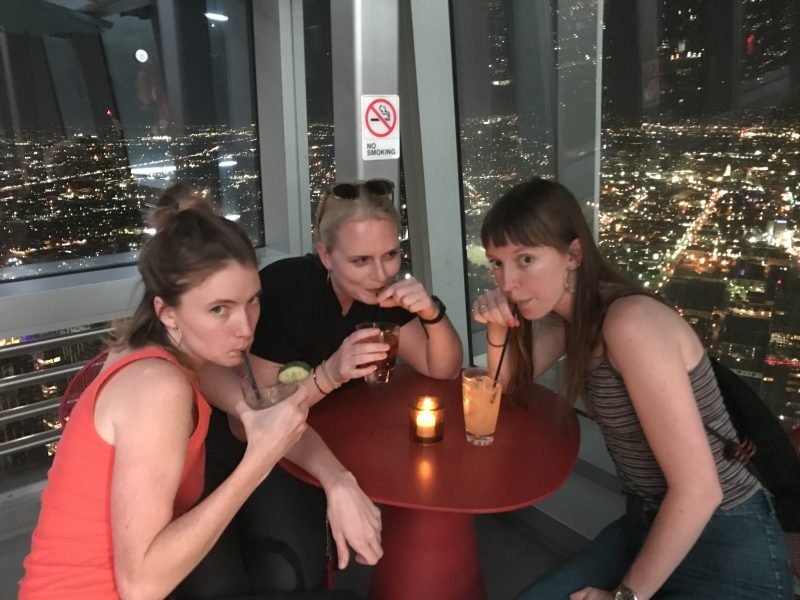 I never thought I'd see the day that Strokethkok played my sister's wedding.
Strokethkok is my noise band. Formed in 2013, we make experimental electronic
music that incorporates ambient soundscapes, beat-driven harsh noise and processed
vocals. Our name I'll leave open to your interpretation.
My sister's wedding took place this September in Los Angeles. She married a Londoner, Alan, and they held two celebrations, one in each hometown. They called this one "The LA Wedding"; the invitation depicted palm trees and freeways. Strokethkok, based mostly on the East Coast, entered the space of this "LA Wedding" as both audience members and performers. Audience members because Strokethkok attended the wedding. Performers because, two days before the wedding, at the Rec Center LA, Strokethkok performed for many guests who were in town for the big event.
If any Soap Ear readers were at that show, they may remember the unusual change in scenery that took place at around 10 pm. That was when a group of noisy and evidently tipsy patrons – ranging in age from mid-twenties to mid-sixties and dressed in light cocktail attire – began streaming into the room, turning the formerly subdued weeknight noise-show scene into a rowdy party. Noise regulars wondered who these people were. The wedding guests wondered what Strokethkok was. Strokethkok hoped for the best. Here is the story of how it came to be.
***
Actually, it was "The LA Wedding" that transformed a longtime Strokethkok dream—the LA Strokethkok show—into reality. My bandmates Devon (flute, VolcaSample) and Emily (modular synth, monotribe) were on the guest list. Based in New York, they planned to come to LA a few days before the event, to hang out and see the sights. With the Kok fresh out of a residency at the Mall of Found in New Lebanon, NY and replete with a new collection of jams (forthcoming in our first EP!), it was the perfect opportunity to make our West Coast debut.
As we ironed out the details of our show over Google hangouts, Sierra and Alan worked on the logistics of the bar meetups and activities that would take place in the nights before the wedding (which, I've learned, is another customary chore the bride and groom undertake in addition to planning the wedding itself). Sierra made a Facebook Event to keep friends in the loop about pre-wedding celebrations. Upon hearing of the planned Kok show, Sierra, my biggest fan since day one, did not hesitate to add it to the lineup of events. The Facebook page notified guests that, following rooftop drinks at Spire73, they can head to an "avant-garde musical performance featuring Sierra's notoriously chill sister, Rose."
I'll admit that at least one member of Strokethkok was a little hesitant to okay this listing. Most of my relatives' last encounter with my musical creativity was my performance as Marian the Librarian in my middle school production of the Music Man., sent to them on VHS by my Mom. I honestly did not know what they would think of this band called Strokethkok, whose music consisted of me screaming "THIS IS A REAL HELLFUCK" at the top of my lungs over grating noise and a four-on-the-floor beat. But Strokethkok, like the devil-may-care name itself, is about taking risks, so in the spirit of the Kok, I agreed.
*** 
In the days leading up to the show our time was tied between obligations of Strokethkok and the wedding. When I arrived at my parents' house in LA, where Emily and Devon had arrived a couple of hours before, I found Emily in the backyard drinking Coronas with my cousins and Devon nowhere to be found – she had walked up the street to LA's Westside Pavilion mall on a search for formal shoes (sadly, futile).
Later that night, my parents hosted a party for Alan's family and friends, with drinks and Mexican food in the backyard. Strokethkok didn't contribute anything musical that night, but we did make the keen observation that the party was sorely lacking in margaritas and we deftly acted to remedy the situation. We are virtuosos at drink-making and our thirsty audience was appreciative. We gave them the bulk of the pitcher, because we had to be up early for rehearsal.
The next day (after an extended jam session in my parent's garage and a hellish afternoon drive east on the 10 Freeway, which the author hopes the band didn't commit to memory), we arrived at the venue to set up our gear. But we did so with a close eye on the time. We needed to soundcheck, but we also needed to make the rooftop drinks at Spire73, which we would fit in before the show. We set up our equipment, and collected our things to go. Evan, the owner of the Rec Center, asked if we were getting food. "No, we're actually meeting Rosie's extended family and friends at a rooftop bar downtown, for her sister's official Thursday night pre-wedding drinks." And so Strokethkok exited the venue and hopped in the Uber.
At the rooftop bar, which the bartender informed us was the highest open-air bar in all of the Western Hemisphere (Strokethkok was happy to have christened it), we conducted an official Strokethkok photoshoot (photo-cred goes to my cousin Katy), and fielded an onslaught of questions from interested parties in the cocktail crowd. "So, tell me about your band. Do you sing?" they asked me. "Well, kind of…."
Eventually we said our goodbyes, and returned to the Rec Center in time to embark on a very important preshow ritual: chilling with some beers. We hung out as a few early noise-goers trickled in. Meanwhile, the wedding guests remained at Spire73, getting more and more rounds of Kumquat Old Fashioneds. So, about an hour or so later, when they finally arrived, they, too, were channeling the Strokethkok vibe: pleasantly tipsy, and ready for the show.
***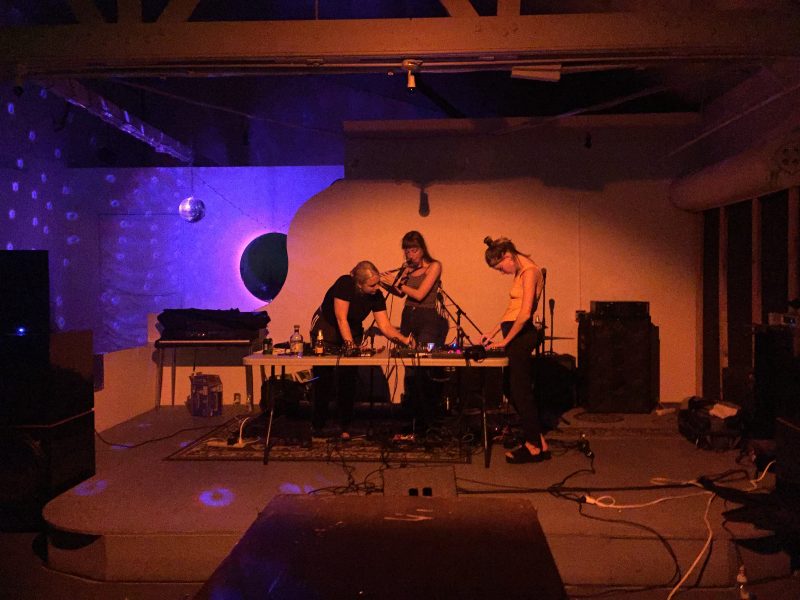 The Rec Center's excellent sound system had our synth lines shimmering and our noise satisfyingly loud. (Maybe a little too loud, my Dad complained the next day; and I'm not sure when, exactly, the faint tinnitus in my left ear began, but a lot of the signs point towards this general period). Per Strokethkok protocol, we improvised within a form, beginning on a dreamy, ambient soundscape: my voice chanting through heavy reverb over Devon's processed flute and Emily's analog droning; drifting into a beat-driven middle: a housey synth line, weird flute sounds, unruly high-hats, and sound bites from a 70s-era self-help tape recording; and closing, as we typically do, on a segment of sweeping harsh noise over a thumping beat, this time ornamented with shouted reflections on the corporate workday ("I'm not coming in today!").
I wondered how we sounded to those in the crowd hearing noise music for the first time. I know from experience that your first show of this kind can leave you wondering if there's something you're missing, or maybe with the sense that this music isn't for me. What I hoped was that Strokethkok's music would feel accessible.
Before Strokethkok was Strokethkok, we were just a couple of female seniors at Oberlin College who felt that maybe this music wasn't for us. Most of the performers we saw back then were men, operating within a network of organizers and bookers who were usually also men. One day we decided to respond. None of us had been in bands or seriously used gear before, but we had a laptop, a USB microphone, and a synth. So we came up with a set and asked to join the bill at an upcoming noise show at a house down the street. When we premiered our set of digital harsh noise, erratic synth arpeggiations, and a projected video montage of Emily's Jeep driving down the street, we had no idea how the crowd would respond. To our surprise, it was with particularly loud applause,  "cool set!" praises, and requests to play more shows! We had believed that noise was disempowering to us, but we learned there is at least one thing that makes it empowering: regardless of your musical background, what gear you have, or what sounds you are drawn to create, if you want to make it, you can.
Nearly five years after our band formed, our tools have certainly grown (bona fide gear-slutz!) but we still want to be OK with mistakes, open about gaps in our knowledge, and down to collaborate with friends of all backgrounds—embracing the idea that this music is for all.
Greeting friends and family after the set, I was met with responses that were hard to parse: from "I loved watching you perform!" to "That was really interesting!" (I'm not sure if loved watching you perform means felt iffy about hearing me perform or if really interesting means no clue what to say?) Whatever the case, Strokethkok is grateful. And whether you loved it or hated it, at the very least, what we want you to take away is: this music is for you.
***
Two nights after the performance, Strokethkok attended its first ever wedding (as a band). At the ceremony, I again performed, but this time I walked the bride down the aisle (the bride's subversive statement) and recited a line of poetry about love—maybe the opposite of a full-throated scream about a hellfuck. Later, my bandmates and I engaged in the activities that would naturally occupy any Strokethkok member at an event like a wedding – dancing in earnest, indulging at the open bar, and asking the (always hostile) DJ to play the songs of our choice. At the peak of the party, everyone seemed genuinely happy to be there, to hang out, enjoy the company of the other guests, and groove to music—kind of like what we'd always hope a Strokethkok show would be.
More from this issue